Why I Stopped Using Neuvoo Email Job Alerts
And Why You Should Too
Monday, 12th of November, 2018
As I write this I am currently seeking employment and until this morning I have been receiving daily job alerts from Neuvoo.
This is how the job alerts look: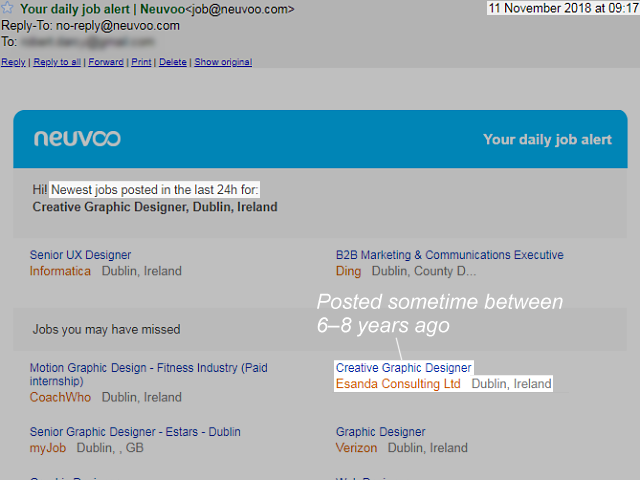 As you can see I have highlighted 3 parts of the email which show that the email was received yesterday, that it contains links to NEW jobs - posted in the last 24 hours, and that one of them is for a Creative Graphic Designer and that it was posted by Esanda Consulting Ltd.
The problem with this link is that it is at least 6 years old and may be much older and Neuvoo just keeps recycling it as if it were a new job posting.
After following the link the job description given seems to be way too good to be true because, unlike current job postings, the requirements are actually sane and reasonable - the applicant only needs to know HTML, CSS, Javascript, Photoshop, Flash and ActionScript.
The last 2 requirements are the ones which should set all the alarm bells going because Flash is no longer needed by anyone, except for some animation studios, and ActionScript has fallen by the wayside.
It is impossible to tell when the job was posted as no date is given and it is also impossible to register with the site as the code is "broken".
One probable reason for this is that the hosting provider may have updated the version of PHP or MySQL they provide and which is incompatible with the codebase used by the website.
All of the social media links (Xing, Twitter, LinkedIn, Facebook) given on the Esanda Recruitment website lead to pages which state no such page exists.
A search of Facebook reveals that there is an Esanda Recruitment page but the last time anything was posted to it was 30th of November 2012.
This suggests that Esanda Recruitment (or Consulting) is no longer in business.
So, what you need to ask yourself is this - if this job posting is 6–8 years old, why does Neuvoo keep listing it as a newly posted job and how many of the other jobs they list are out of date or simply non-existant?
I sent an email to Neuvoo to bring this issue to their attention in the hopes they might rectify it but my email was completely ignored and several days after I sent it I received another job alert listing the completely bogus Creative Graphic Designer job as shown in the screen-grab above.
I recommend you do what I have done - delete all of your Neuvoo job alerts and concentrate your job search elsewhere.