Panoramas from Occitanie
Panoramic images from Sète, Pézenas and Abbaye de Valmagne in the department of Hérault, Cité de Carcassonne in the department of Aude and Aigues-Mortes in the department of Gard, in the Occitanie region of France.
The panoramic images were stitched together using Microsoft ICE.
Because these images were all taken hand-held (no tripod was available) there are lots of stitching errors in the following images.
Sète (Hérault)
View of Sète and Étang de Thau (left) and the Mediterranean (right) from Mont St Clair, stitched from a series of hand-held photographs using cylindrical projection. Source image is 28231 × 4685 pixels (132.3 megapixels):

View of the marina and lighthouse in Sète harbour from Mont St Clair, stitched from a series of hand-held photographs using planar camera motion. This is the largest panorama I made. Source image is 18990 × 9840 pixels (186.9 megapixels):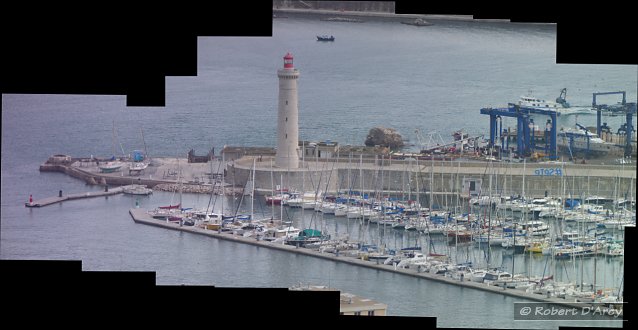 View of Canal de Sète from Quai Maréchal de Lattre de Tassigny near Pont Virla, stitched from a series of hand-held photographs using cylindrical projection. Source image is 7036 × 4460 pixels (31.4 megapixels):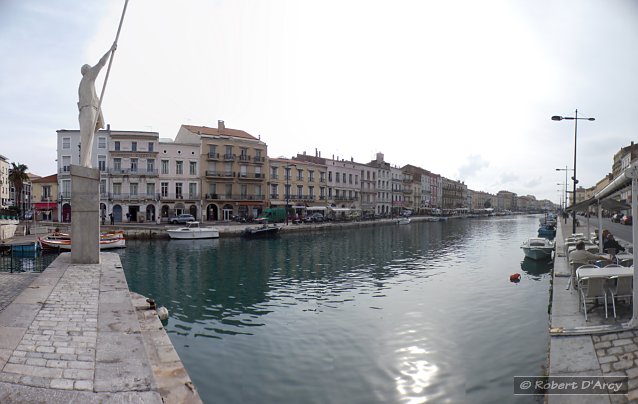 View from Quai de Bosc of the marina in Canal de Sète, with Pont Sadi Carnot on the left and Canal Latéral to the right of centre, stitched from a series of hand-held photographs using cylindrical projection. Source image is 29482 × 4553 pixels (134.2 megapixels):
Picture of église Saint-Louis, stitched from a series of hand-held photographs using transverse cylindrical projection. Source image is 3628 × 4748 pixels (17.2 megapixels):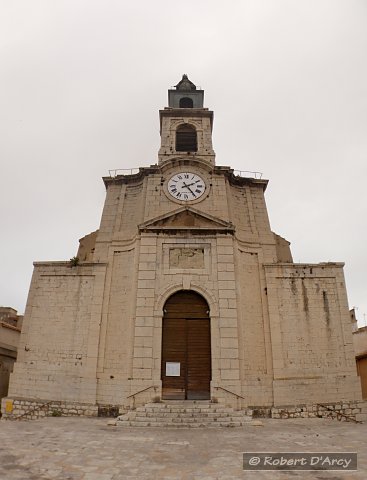 View from Mont St Clair of a ferry in Sète harbour, stitched from a series of hand-held photographs using cylindrical projection. Source image is 11760 × 4710 pixels (55.4 megapixels):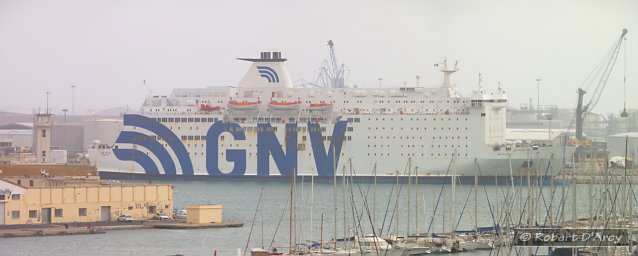 View of Étang de Thau from Sète, stitched from a series of hand-held photographs using cylindrical projection. This looks much nicer here than the actual source panorama which is very grainy. Source image is 11007 × 4855 pixels (53.4 megapixels):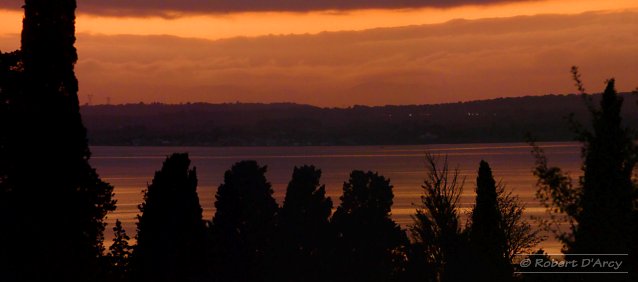 View of Étang de Thau from Sète, stitched from a series of hand-held photographs using cylindrical projection. Source image is 15329 × 4912 pixels (75.3 megapixels):

View of the marina in Sète harbour, stitched from a series of hand-held photographs using cylindrical projection. Source image is 16236 × 3323 pixels (54 megapixels):

View from Pont de la Savonnerie of Canal de Sète, stitched from a series of hand-held photographs using cylindrical projection. Source image is 22795 × 4634 pixels (105.6 megapixels):

View from Mont St Clair of a cruise ship in Sète harbour, stitched from a series of hand-held photographs using cylindrical projection. Source image is 9475 × 4698 pixels (44.5 megapixels):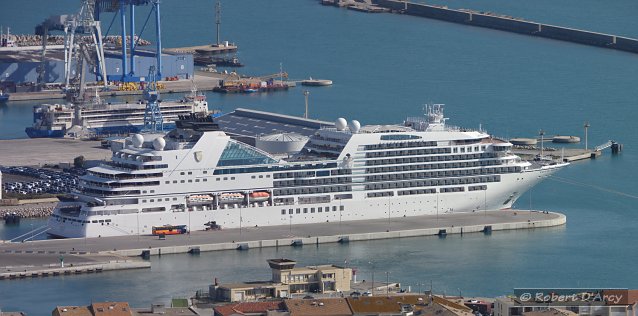 View of Sète and Étang de Thau (left) and the Mediterranean (right) from Mont St Clair, stitched from a series of hand-held photographs using cylindrical projection. Source image is 8513 × 2273 pixels (19.4 megapixels):

View of Mont St Clair and Forêt Domaniale des Pierres Blanches as seen from Mèze harbour, stitched from a series of hand-held photographs using cylindrical projection. Source image is 14519 × 5723 pixels (83.1 megapixels):

View of Étang de Thau from seen from the shore near Rue des Cormorans, stitched from a series of hand-held photographs using cylindrical projection. Source image is 10946 × 4611 pixels (50.5 megapixels):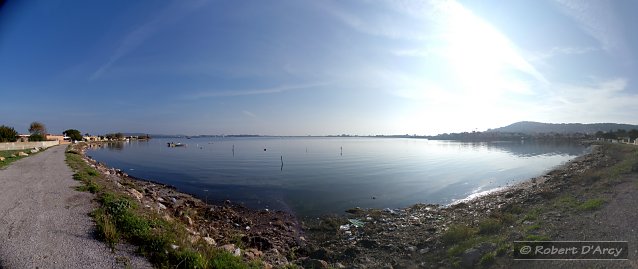 View of Sète and Mont St Clair in the distance, looking along Canal de la Peyrade from Quai du Mas Coulet, stitched from a series of hand-held photographs using cylindrical projection. Source image is 13154 × 4647 pixels (61.1 megapixels):

View from Quai Paul Riquet of a semi derelict transport ship in Canal Maritime, stitched from a series of hand-held photographs using cylindrical projection. Source image is 7261 × 4758 pixels (34.5 megapixels):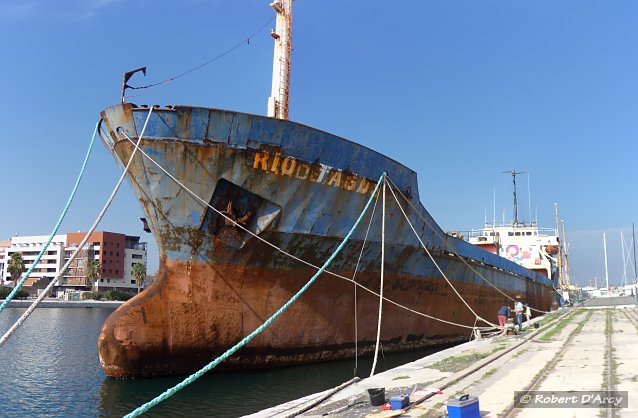 Sunset over Étang de Thau, seen from Boulevard Pierre Mendès France, stitched from a series of hand-held photographs using cylindrical projection. Source image is 16613 × 4834 pixels (80.3 megapixels):

Another sunset photo over Étang de Thau, seen from Boulevard Pierre Mendès France, stitched from a series of hand-held photographs using cylindrical projection. Source image is very grainy. Source image is 11168 × 4556 pixels (50.9 megapixels):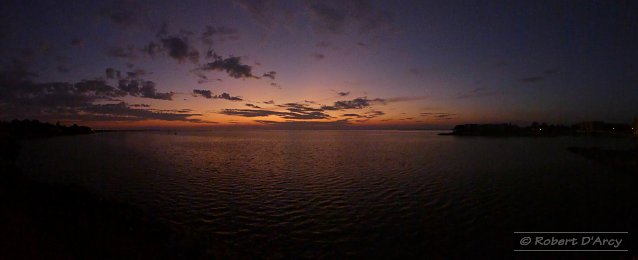 Pézenas (Hérault)
View of Rue Canabassière (left, going down) and Rue Four de la Ville (right, going up) in Pézenas, stitched from a series of hand-held photographs using cylindrical projection. Source image is 15113 × 4681 pixels (70.3 megapixels):

View of Collégiale Saint-Jean in Pézenas, stitched from a series of hand-held photographs using planar camera motion. Source image is 7729 × 5798 pixels (44.8 megapixels):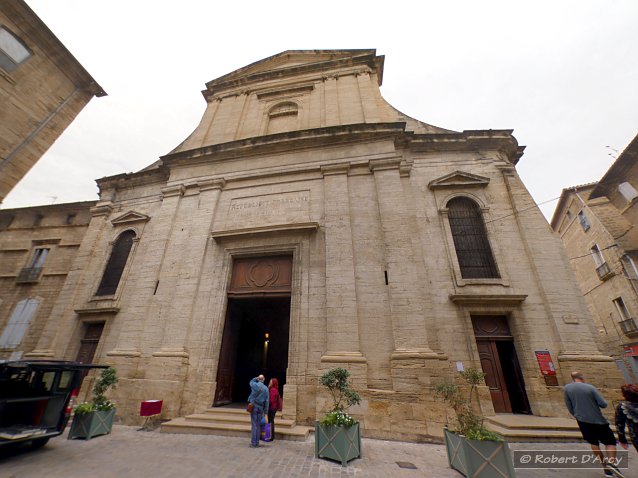 Cité de Carcassonne (Aude)
View of the Porte Narbonnaise entrance and the ramparts of the mediæval fortress city of Carcassonne, stitched from a series of hand-held photographs using cylindrical projection. This is my favourite panorama from this trip, consisting of roughly 30 source images in 3 rows of 10. Source image is 17195 × 7380 pixels (126.9 megapixels):
View of Porte Narbonnaise, main entrance to the mediæval fortress city of Carcassonne, stitched from a series of hand-held photographs using cylindrical projection. Source image is 4562 × 5135 pixels (23.4 megapixels):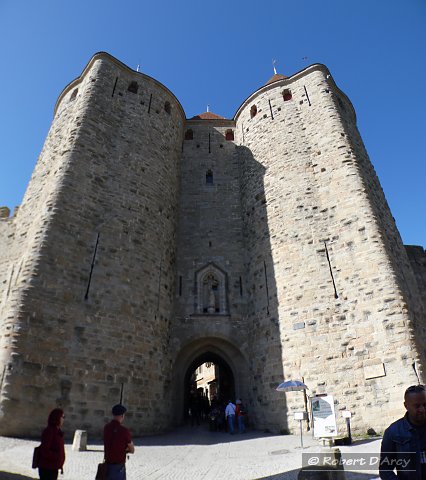 View of Le Château in Carcassonne, stitched from a series of hand-held photographs using cylindrical projection. Source image is 1280 × 727 pixels (.931 megapixels):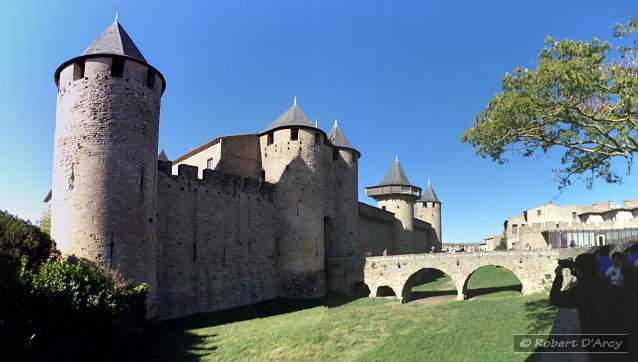 View from Place August Pierre Pont of La basilique Saint-Nazaire, stitched from a series of hand-held photographs using cylindrical projection. Source image is 7974 × 5296 pixels (42.2 megapixels):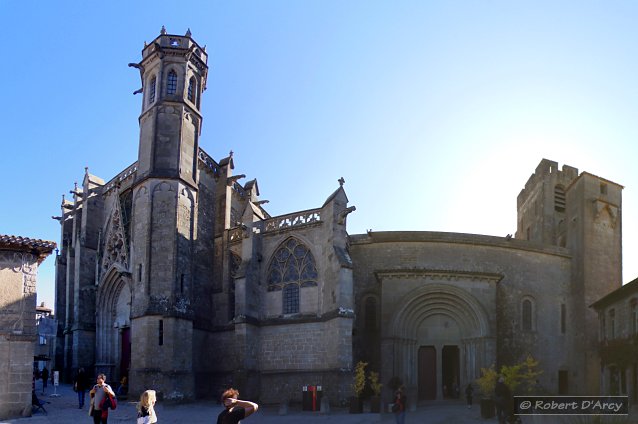 The rose window at the northern end of the transept in La basilique Saint-Nazaire which features the Crowning of the Virgin Mary surrounded by angels, prophets and saints, stitched from a series of hand-held photographs using cylindrical projection. Source image is 7893 × 6270 pixels (49.5 megapixels):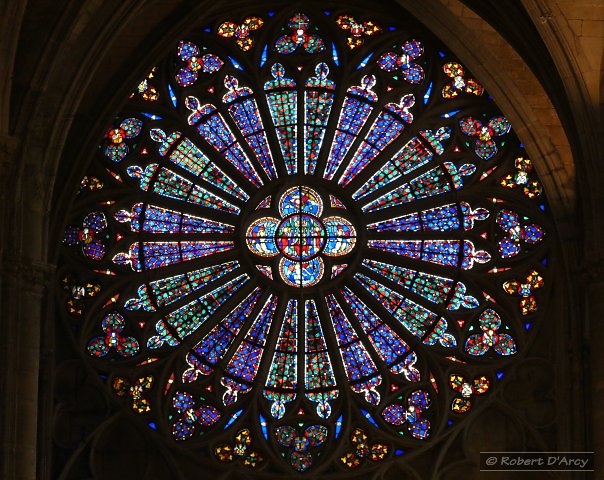 The rose window at the southern end of the transept in La basilique Saint-Nazaire, stitched from a series of hand-held photographs using cylindrical projection. Source image is 7268 × 5564 pixels (40.4 megapixels):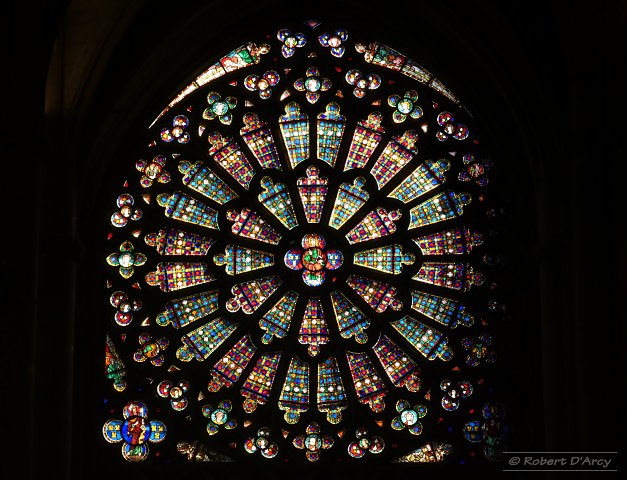 View along the transept of La basilique Saint-Nazaire from the northern end to the southern end and the rose window, stitched from a series of hand-held photographs using cylindrical projection. Source image is 3672 × 4896 pixels (18 megapixels):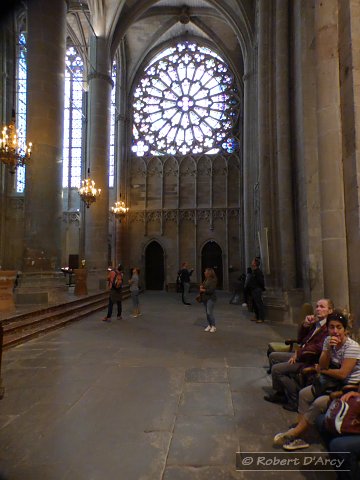 View from the southern end of the transept (on the left) of La basilique Saint-Nazaire all the way around to the northern end (on the right), with the nave in the centre, stitched from a series of hand-held photographs using cylindrical projection. Source image is 13598 × 4210 pixels (57.2 megapixels):

View of one of the stained glass windows in the nave of La basilique Saint-Nazaire, stitched from a series of hand-held photographs using cylindrical projection. Source image is 4476 × 6933 pixels (31.0 megapixels):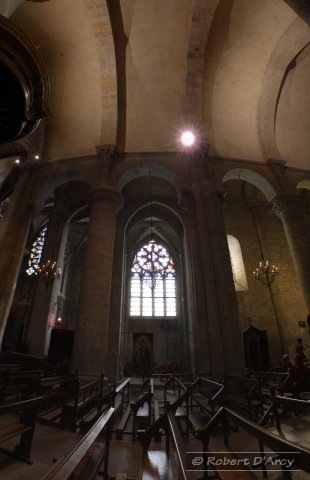 View of the southern side of La basilique Saint-Nazaire, stitched from a series of hand-held photographs using cylindrical projection. Source image is 7978 × 5950 pixels (47.5 megapixels):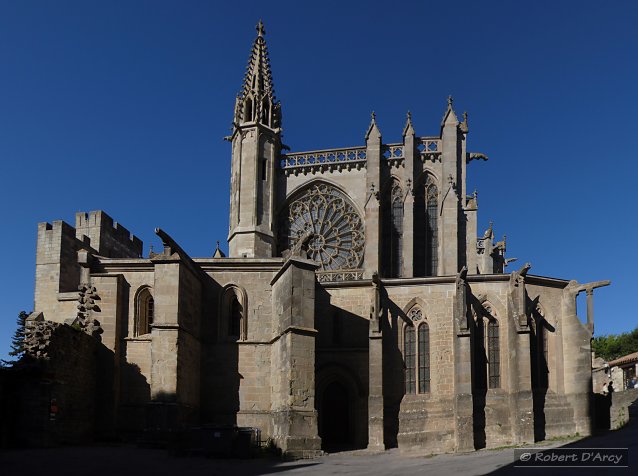 The Office Municipal de Tourisme in the Northern Tower of the Porte Narbonnaise. Stitched from a series of hand-held photographs using cylindrical projection. Source image is 4538 × 11543 pixels (52.4 megapixels):

View along the side of the nave of La basilique Saint-Nazaire, stitched from a series of hand-held photographs using cylindrical projection. Source image is 4538 × 11543 pixels (33.7 megapixels):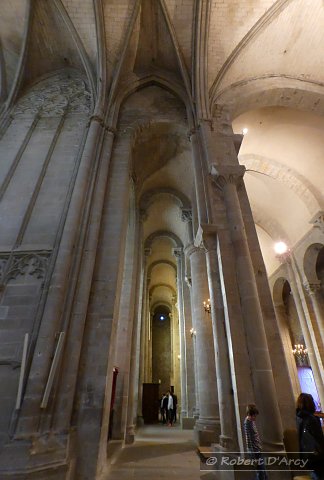 Abbaye de Valmagne
View of the entrance (narthex?) to the church at Abbaye de Valmagne, stitched from a series of hand-held photographs using cylindrical projection. Unfortunately more than half of the pictures were out of focus. Source image is 5382 × 3819 pixels (20.6 megapixels):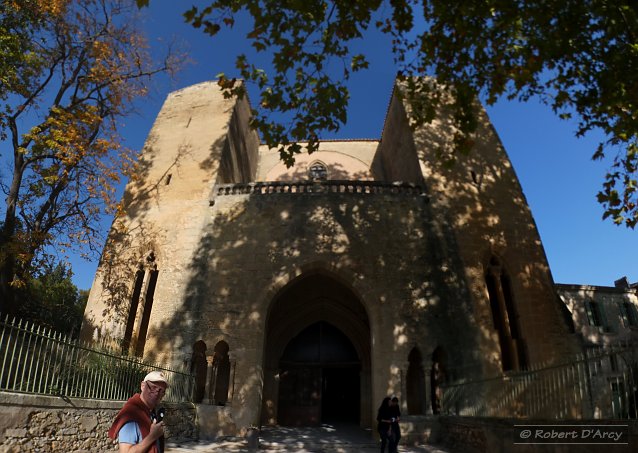 Under the arch in front of the door of the church at Abbaye de Valmagne, stitched from a series of hand-held photographs using cylindrical projection. Source image is 4780 × 9267 pixels (44.3 megapixels):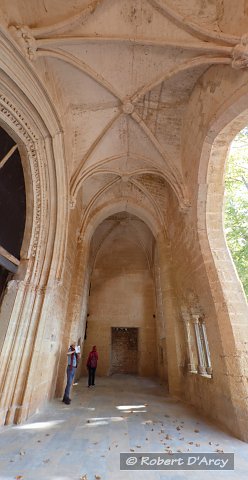 Looking down the nave of the church (which was converted to a wine cave in 1791) at Abbaye de Valmagne, stitched from a series of hand-held photographs using cylindrical projection. Source image is 4884 × 8791 pixels (42.9 megapixels):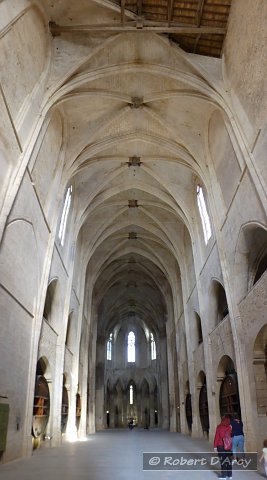 View from one side of the transept (on the left) to the other side (on the right) with a semi-circular ambulatory in the centre at the head of the nave in the church at Abbaye de Valmagne, stitched from a series of hand-held photographs using cylindrical projection. Source image is 13667 × 4813 pixels (65.8 megapixels):

View from one corner of the cloister at Abbaye de Valmagne with the chapter house barely visible on the left, stitched from a series of hand-held photographs using cylindrical projection. Source image is 10117 × 4734 pixels (47.9 megapixels):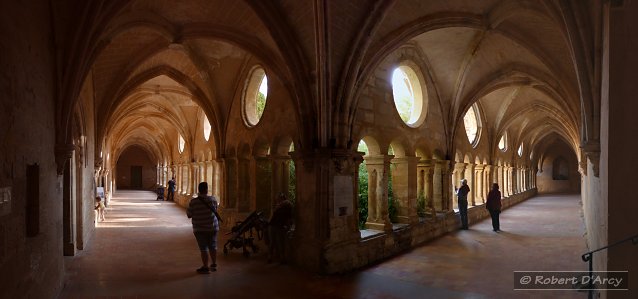 View from another corner of the cloister at Abbaye de Valmagne, stitched from a series of hand-held photographs using cylindrical projection. Source image is 8899 × 4649 pixels (41.4 megapixels):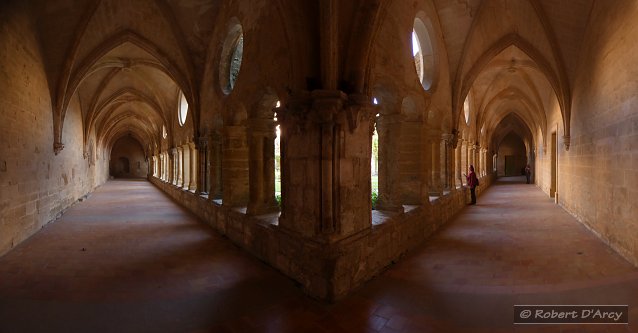 View of the lavabo and the fountain in the cloister at Abbaye de Valmagne, stitched from a series of hand-held photographs using cylindrical projection. Source image is 14759 × 4725 pixels (69.7 megapixels):

Aigues-Mortes (Gard)
View from the corner of Boulevard Intérior Est and Boulevard Intérior Nord in the mediæval walled city of Aigues-Mortes, stitched from a series of hand-held photographs using cylindrical projection. In it you can see my brother John and my other brother John. Source image is 14302 × 4611 pixels (65.9 megapixels):

View of the top of one of the towers in the ramparts of Aigues-Mortes - I can't remember which one but it is either Tour de Villeneuve or Tour de la Poudrière, stitched from a series of hand-held photographs using cylindrical projection. Source image is 17233 × 4906 pixels (84.5 megapixels):

View inside Tour de Constance looking up, stitched from a series of hand-held photographs using cylindrical projection. Source image is 4815 × 8164 pixels (39.3 megapixels):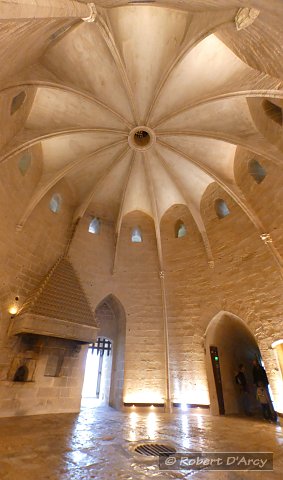 View from the top of Tour de Constance, looking over the rooftops of Aigues-Mortes with Étang de la Ville in the distance, stitched from a series of hand-held photographs using cylindrical projection. Source image is 11259 × 4511 pixels (50.8 megapixels):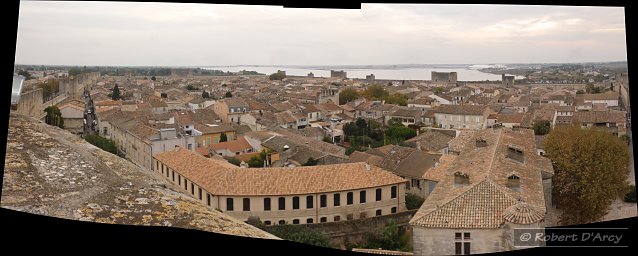 View inside Tour de Constance looking down, stitched from a series of hand-held photographs using cylindrical projection. Source image is 4231 × 7656 pixels (32.4 megapixels):