SEO Domain Scam
Tuesday, 29th of August, 2017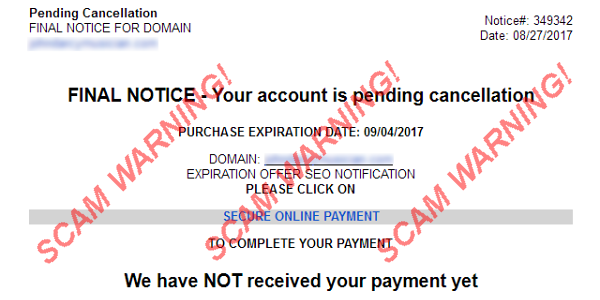 The latest in a long line of Domain scams is now making its rounds in an attempt to trick the unwary into handing over large sums of money.
If you have registered any domains it is very likely that you may have received or will soon receive one of these emails-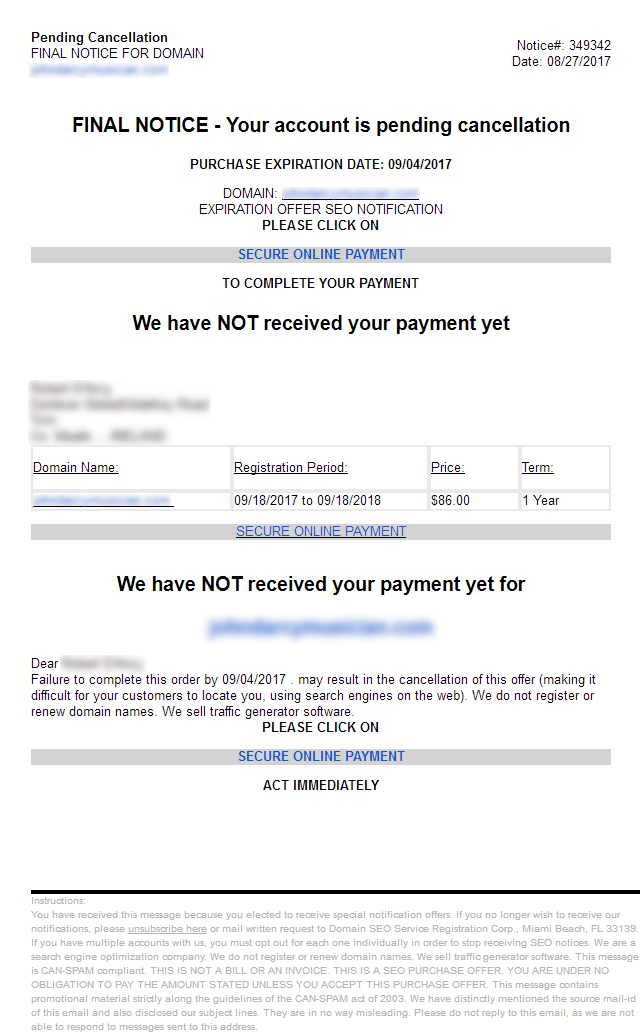 The text is quite clearly intended to give you the impression that your domain name is about to expire and that you must quickly send them $86 or you will lose it, with lines such as:
"FINAL NOTICE FOR DOMAIN"
"FINAL NOTICE - Your account is pending cancellation"
"We have NOT received your payment yet for (your domain name here)"
This is despite the claims which are made in the footer of the email which state:
"We have distinctly mentioned the source mail-id of this email and also disclosed our subject lines. They are in no way misleading."
It is important to take note of the following line so that you undertstand this "invoice" has nothing to do with your domain name:

This is pointed out in the main text as well as in the footer of the email:
"We do not register or renew domain names. We sell traffic generator software."
"We are a search engine optimization company. We do not register or renew domain names."
They state that you can remove yourself from their mailing list either by clicking a link (which you should NEVER do) or by writing to what they claim is their address:

After a little WHOIS search it can be shown that the Miami address is completely spurious and that the real address is in fact:
Cuixiangjiedao 5392 Hao, Zhuhai, Guangdong province, 519000, China
The domain name was registered with Chengdu West Dimension Digital Technology Co., Ltd and the website runs out of 7f World Peace Center 55 Wo Tong Tsui St Kwai Chung, Hong Kong.
If you receive an email like this DO NOT click on any of the links contained with it - just delete it.